Purim
Presentation
from
Puerto
Rico
Join the JRC's Purim Presentation of 2014 with an international flavor! The story comes from Shushan, the food will be Chinese and we will be joined by a special guest speaker and performer who hails from Puerto Rico!
Schedule of Events for Purim – Sunday, March 16th:
5:00 PM – Reading of Megillat Esther (The Purim Story)
6:00 PM – Festive Meal (Chinese)
7:30 PM – Shalach Manos (Purim Basket) Exchange*
Price: $13/Adult, $7/Child (12 & Under)
Please

RSVP

by

contacting us

no later than Thursday, March 13, 2014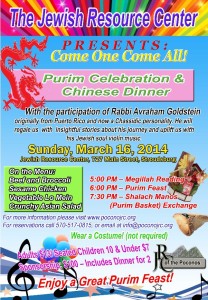 This year's JRC Purim presentation promises to be the greatest ever! We will have Megilla Reading at 4PM followed by the Purim Feast at 5PM. A very special guest will be joining us this year and will provide multiple forms of entertainment. Rabbi Avraham Goldstein of Scranton will grace our feast and will regale us with his personal story and journey. Rabbi Goldstein is a native of Puerto Rico who now sports what may look like a purim costume but is really not! His infectious smile and sense of humor will liven the party as much as his violin and the sweet melodies that he plays. So bring your smile and your best costume and celebrate Purim '14 at the JRC.
*What is Shalach Manos?
Literally, it means "the sending of (food) portions." As part of the Purim festivities, the Rabbis instituted this practice of distributing food portions to one another. These gifts serve a dual purpose. Firstly, they help provide food for the Purim Feast for those in need. Secondly, sharing gifts with our friends and acquaintances fosters a heightened sense of unity and friendliness amongst our people. This is very much in tune with the overall theme of joy on this special Holiday of Purim.