JRC Mission Statement:
The Jewish Resource Center of the Poconos offers resources for a broad range of cultural, educational and social Jewish experiences. These experiences connect and inspire all that participate thereby fostering Jewish continuity.
The JRC's curriculum of events and programs is designed to offer stimulating and enjoyable content for all ages, irrespective of your political or religious affiliations. Some of our programs include:
                                             
Hebrew Reading Crash Course!
By Popular Demand, This Course Will Be Back Soon For A Second Session!
Please contact us as soon as possible if you are interested, so that we can move ahead with scheduling.
Learn to read Hebrew in a matter of hours.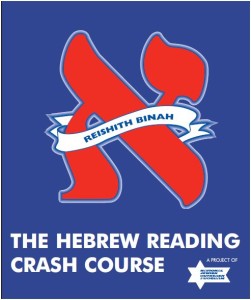 In only five 1.5 hour classes, you can feel comfortable reading the Hebrew language. Prayer and Torah study will take new meaning as you navigate your way through the original text.
So many of you have requested formal instruction in Hebrew reading, and we are proud to introduce a new curriculum. Rabbi Salkow will present the Reishith Binah Crash Course. This is a project of the National Jewish Outreach Program who have had much success with this curriculum throughout the country.
Additionally, Hebrew language skills for conversation and translation of texts will be included in the course along the way!
When:

Tuesday evenings from 5:00 – 6:30 beginning again soon! 

Where:

Jewish Resource Center – 727 Main St. Stroudsburg

Cost:

Free!
FOR MORE INFO AND TO REGISTER PLEASE CALL THE JRC AT 570-517-0815 OR EMAIL RABBI SALKOW AT ysalkow@poconojrc.org
The Junior Scholars Club is back!
You can still register!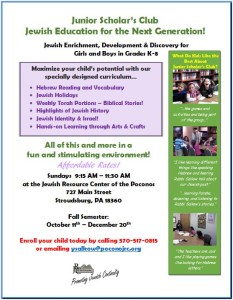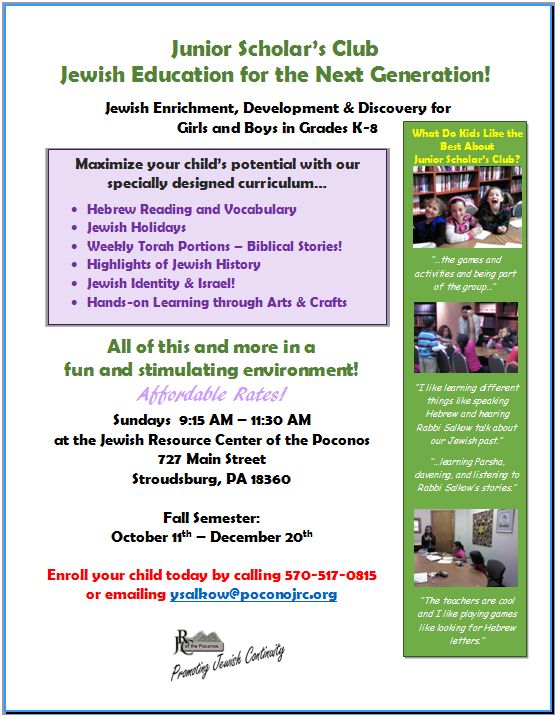 Jewish education for youth of all ages will be offered once again every Sunday morning throughout the school year. The enviroment is fun and comfortable and the lessons are priceless. Register now by contacting the JRC at 570-517-0815 or by emailing ysalkow@poconojrc.org